GLMS and members work together to ensure integrity of AFCON and Beijing Games
GLMS and its lottery members have been working hard on contributing together to the protection of sports integrity, this time of the African Cup of Nations, organised by the African Football Confederation from 9 January 2022 to 6 February 2022 and of the Beijing Games, from 4-16 February 2022. The adhoc groups involved 2/3 of GLMS' members and met and regularly exchanged information on risks, analyses of their respective markets and any relevant observations during the tournaments. Each tournament was supported on the ground respectively, by our members, MDJS (Moroco) and CSLO (China). The groups facilitated the integrity work of the member lotteries, providing key input where necessary, to their respective national cooperation frameworks – national platforms – in addressing the manipulation of sports competitions.
Successful AFCON Games
GLMS and its lottery members successfuly completed an internal Adhoc group by monitoring, analysing and addressing questions during the African Cup of Nations (soccer) that took place in January until early February 2022. Over 20 member lotteries participated in meetings, and exchanges, contributing together to the protection of th integrity of the competition and ensuring their betting offers. Supported by the General Secretariat, and with the onsite support of GLMS' lottery member, La Marocaine des Jeux et des Sports, GLMS Analysis and monitoring coordinators Benoit Borsato and Chris Yaakoubian successfully guided members during several meetings and regular exchanges on updates, risks, analyses of their respective markets and any relevant observations during the tournament
A successful adhoc group on the Beijing Games, supporting the work of the IOC
Not long after finalising an MOU with the IOC, GLMS continued its monitoring and analysis work supporting a major Olympic tournament once again.
GLMS kept up the tempo with its members, running another Adhoc internal group with its member lotteries to follow the Beijing Winter Games in February 2022, with the support of our Chinese lottery member, CSLO, on the ground, who lent valubale support with analysis, monitoring and real-time inputs.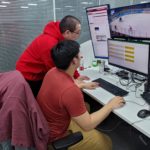 In parallel, GLMS partnered the IOC in its coordination of sports betting monitoring during the Games. The Olympic Movement Unit on the Prevention of the Manipulation of Competitions (OM Unit PMC), with its partners, including GLMS, successfully monitoring sports betting on all Olympic competitions.
This time operationally coordinated by analysis and monitoring coordinators, Daniel Chan and Ernest Lau, GLMS' internal adhoc group involved at least 22 member lotteries from across the globe and shared local information on teams, athletes and COVID-19, as well as expertise on specific sports that can only come from those accustomed to offering betting markets on those sports regularly.